Florida's Ex- Commissioner McCarty Says Banks 'Need Skin In' Mitigation Game
Policymakers need to find a way to get banks involved in property mitigation if Florida is to improve its hurricane resiliency, according to a former state insurance commissioner.
Banks are currently unmotivated to protect mortgages through mitigation because the government steps in and bails them out when there is a crisis, Kevin McCarty, who was insurance commissioner of the state for 13 years, told the audience of the Florida Association of Insurance Reform (FAIR) Foundation's conference in Tampa on May 2.
McCarty spoke about resiliency and mitigation, emphasizing the need for both in the catastrophe prone state.
"We know we are going to have more storms; we also know there is a lot of uninsured property," McCarty said. "We also know somebody is mysteriously not at the table."
He was referring to banks, which he said continue to be bailed out by the government and therefore will continue to make money no matter what. He referenced the financial crisis as an example of how banks are not motivated to protect their financial assets.
"Until banks actually have skin in the game, they are not going to be at the table," he said.
McCarty's said it's important to think about what strategies could work to hold banks accountable and bring them to the table.
"If I as a taxpayer have to pay for it, it should be part of the law that if you have a federally backed mortgage you have to have an all-perils policy – and that means all perils," McCarty told the audience, which responded with big applause.
McCarty told attendees that all stakeholders, including realtors, insurers, banks, and regulators, need to come together with a single voice to get through to those in power and change the dynamic in Washington. That voice needs to call for mitigation, for providing insurance to the uninsured and providing that insurance in a way that is affordable for consumers.
He said even then, unless coverage is mandatory consumers won't buy it, so it will be key to put banks on the hook for the loss.
"That's going to be a critical mission going forward, because without that, it's going to be virtually impossible to force people to buy coverage if they are not really required to do so," he said.
McCarty may not be the Florida insurance commissioner anymore, but he intends to continue working as an advocate for Florida consumers and for a resilient Florida insurance market.
"Educating people about resiliency and hardening homes is to me elementary – we should harden our homes. We know In Florida, in particular, you can't move 18 million people out of harm's way; we watched that nightmare unfold several times when a hurricane came through," he said.
McCarty left his post as head of the Florida Office of Insurance Regulation in May 2016 and is now the CEO of his own consulting firm, Celtic Global Consulting based in Tallahassee. He was recently elected to the board of the FAIR Foundation, a nonprofit organization focused on creating resilient communities, educating consumers, and reducing uninsured risks.
McCarty said retirement from public service has its perks.
"I'm 45 pounds lighter and I can finally sleep during hurricane season," he joked to the audience.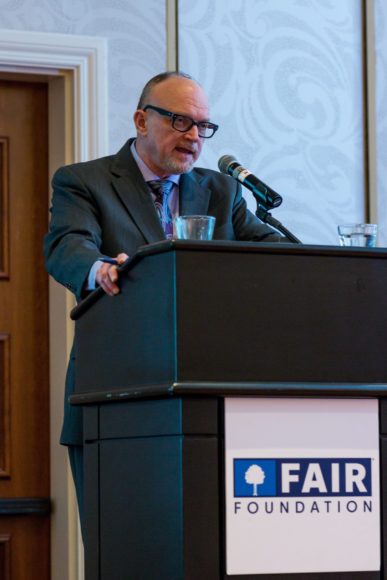 It was clear, however, that the passion McCarty displayed in his former life as insurance commissioner is still there. He urged attendees to come together to find ways to tackle the high rate of uninsured and the cost burden this creates for communities.
He said mitigation is essential not only to the safety of Florida residents, but also to maintaining a healthy insurance market.
"Hardening homes means more than just making sure the home is built to resist a storm, but it's often times where you have to be when a storm happens. You can't fit everyone in a shelter. So creating and mitigating a safe environment is a critical part of your surviving a storm but also in reducing the loss after the storm," he said.
He added, "running in Florida is not a solution – we only have a few roads that run north. It's not like you can escape by running away from a storm, it simply isn't practical."
McCarty recalled when he served under Gov. Jeb Bush during the tumultuous 2004 and 2005 hurricane seasons and the "malaise" he described that ensued from residents. The way the people of Florida acted at that time was the opposite of the culture of hurricane "amnesia" they displayed before Hurricane Matthew broke the state's 11-year hurricane drought in 2016.
"Every weekend it seemed like we were boarding up our homes and hardening our homes for the next storm," he said.
Back then, he said, people left their shutters up for the entire hurricane season because they were sick of taking them down and putting them back up.
He said he learned from Gov. Bush that resiliency means getting things back to normal quickly – getting the roads cleared, getting kids back to school and people back to work.
"It is incumbent for us to have a strategy to go forward to do that," he said. "It seems to me that is one of the cornerstones of any successful strategy going forward."
He said it isn't easy to develop solutions in today's adversarial climate because people have to agree as to what the problem is. While many in government and the insurance industry may disagree on a lot, they should agree that Florida will continue to face catastrophes and the state needs cost-effective ways to deal with them.
"Let's find the things that we can agree on and that are achievable … I think Step 1 is to find common ground – try not to overstate what your problem is and what you can achieve," he said.
Related:
Outgoing Florida Commissioner McCarty Talks How He's Changed, What's Next