Georgia Insurance Regulator Faces 38 Count Indictment for Defrauding Insurer; Claims Innocence
A federal grand jury has indicted Georgia Insurance Commissioner Jim Beck on 38 counts of wire fraud, money laundering and mail fraud in an alleged $2 million scheme to defraud the Georgia Underwriting Association (GUA), his former employer.
Beck, who was elected to his office, has been ordered to report to authorities by noon on Wednesday, May 15, according to the U.S. Attorney's Office.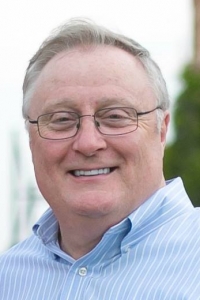 Beck is maintaining his innocence, saying in a statement through his lawyer Bill Thomas to the Associated Press that he "strongly denies" the allegations.
In a 14-page indictment released by the U.S. District Court for the Northern District of Georgia Atlanta Division on Tuesday, Beck is accused of defrauding the GUA, for which he formerly served as general manager of operations. He is charged with 12 counts of wire fraud, 12 counts of mail fraud, and 14 counts of money laundering in a scheme that is alleged to have gone on between February 2013 and June 2018.
The GUA provides high-risk property insurance to Georgia homeowners and is governed by a board of governors, appointed by the Georgia Commissioner of Insurance and other members elected from a slate of candidates by the Georgia Commissioner of Insurance. It is funded by premiums collected from its customers and by assessments of its members, including every insurer writing property insurance in Georgia.
According to the indictment, while in his position at the GUA, Beck formed and had a controlling financial interest in two businesses in Carrollton – Creative Consultants and GA Christian Coalition.
In a press conference Tuesday, U.S. Attorney Bjay Pak said Beck convinced four of his associates to create four different businesses with the alleged purpose of supplying the [GUA] with services, such as residential property inspection and water damage mitigation.
"However, through an elaborate system of invoicing … which included producing false documentation, Beck regularly approved substantial Georgia Underwriting Association payments to the four newly formed companies that were formed by his associates," Pay said.
Pay said Beck then allegedly sent fraudulent invoices from the businesses he had control over – Creative Consultants and the GA Christian Coalition – to the four companies.
"Once that was done, Beck would allegedly direct his four associates to pay the fraudulent invoices from a portion of the money paid to their businesses by the GUA," he said, noting as general manager, Beck had the GUA make the payments.
U.S. Attorney Pay detailed four aspects of the alleged scheme at Tuesday's press conference and listed what Beck allegedly used the fraudulent proceeds for, including several personal expenses such as credit cards and retirement accounts, as well as state and federal personal income taxes. Prosecutors said Beck also made payments to his campaign for insurance commissioner and used proceeds for the purchase and improvement of personal rental property.
In total, the grand jury has alleged that between February 2013 and August of 2018, Beck defrauded the GUA out of more than $2 million, Pay said.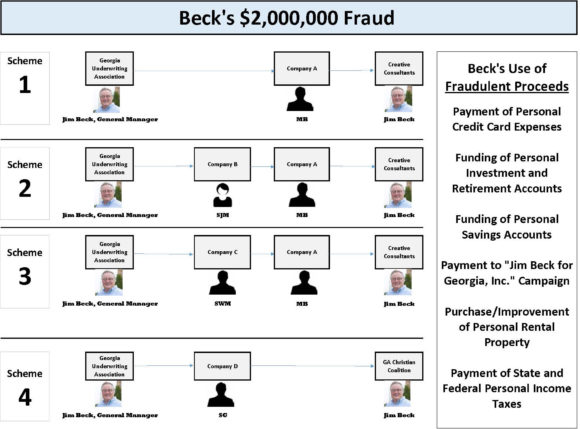 Pay stressed the alleged allegations and activity happened before Beck became Georgia insurance commissioner this past January.
"The allegations contained in the Grand Jury indictment do not touch upon his current role, however, holding a powerful position does not shield you from the sins of your past criminal activities. Justice and rule of law will catch up to you eventually," U.S. Attorney Bjay Pak said at the press conference.
Special Agent in charge of the FBI in Atlanta Chris Acker said the investigation began about 10 months ago because of allegations referred to the FBI by Georgia Inspector General Deb Wallace.
"The investigation quickly developed [and] evidence established that Beck abused the trust of friends and his employer GUA in an elaborate scheme to enrich himself at GUA's expense," Acker said.
Beck's attorney told AP that Beck "acted legally and in good faith," and that he "looks forward to clearing his good name."
Beck, a Republican, beat Democrat Janice Laws in the November 2018 election. Beck made fighting insurance fraud a central theme of his campaign and top priority since he took office in January.
Beck has shown no sign of stepping aside because of the charges. In a statement to Insurance Journal, a spokesman for the Georgia Department of Insurance said: "The accusations that have been made against Commissioner Beck today have no bearing on his service as an elected official to the people of Georgia. [Beck] is entitled to the same presumption of innocence that every citizen of Georgia walks into a courtroom with when accused of a crime. The Department is focused on fulfilling the vital mission we have to protect Georgia consumers. The incredible employees of our Department will get up tomorrow morning and go back to work, including Commissioner Beck."
The Atlanta Journal-Constitution first reported that Beck's state work records had been subpoenaed by a federal grand jury in June of last year. Beck's campaign released a statement to the AJC at the time saying Beck didn't know what the investigation was about and that he was not in a position to comment on it.