Perez Joins Atlanta-Based SIU's Commercial P&C Team
Southern Insurance Underwriters, Inc. (SIU) has added Jose Perez to the Commercial Property and Casualty underwriting team. Perez comes to SIU with more than 20 years of experience in the insurance industry and a penchant for developing strong relationships with the independent insurance agents he partners with.
Prior to partnering with SIU, Perez served as a commercial property and casualty broker and wrote more than $3 million in new business last year. He also has experience writing personal lines, managing sales and production, and as a compliance officer.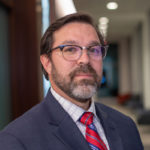 Established in 1964 by W.C. Duesenberg, SIU is a 54-year-old managing general agency located in the Atlanta area. SIU offers a range of products and markets to over 3,000 independent insurance agents including personal property, workers' compensation, inland marine, professional lines, forest products, commercial transportation and commercial property and casualty.