Insurance Pros in Politics: Cooley Masters Quake Insurance
When it comes to mixing insurance and politics, the two might as well be one in the same for California Assemblyman Ken Cooley.
Cooley, D-Rancho Cordova, started his career in the 1970s working on earthquake issues with a unit of government in the San Francisco Bay area. Since that time, Cooley has mixed the businesses of insurance and politics quite often and quite well.
The McGeorge School of Law graduate was chief of staff to Assemblyman Louis J. Papan from the late 1970s to early 1980s, and for a time in the mid-80s he served as legislative counsel at the California Land Title Association.
Then in the late '80s Cooley was chief counsel to the Assembly Finance and Insurance Committee before taking a position as legal counsel to State Farm Insurance, a post he held from 1991 to 2008.
Following that stint Cooley moved over to the state Senate to serve as the principal consultant for the Banking, Finance and Insurance Committee.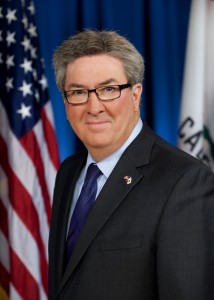 During all this time Cooley has made room in his schedule to serve as a city councilman and mayor for Rancho Cordova in Northern California.
It's clear he enjoys public service, and as for insurance Cooley said he feels it touches people's lives in a beneficial way, "trying to mitigate the adverse consequences of when life has a bump for people."
"That's true across the board, whether it's property and casualty, life and health, workers' comp – all of these things," Cooley told Insurance Journal. "It is a buffer against bad things in life, and I think it's an industry that is able to touch people's lives in a positive way, so it's a great business to be in. In that sense, I think it is a good fit, actually, with public service."
Thanks to his insurance background the freshman legislator is already getting called on for his input on insurance matters by senior members.
"I can say, on contentious bills this year in the insurance committee, I've definitely had members literally say to me, 'What do you think, Ken?'" Cooley said.
Of all the expertise Cooley brings to the legislative table, earthquakes are something he knows and cares a great deal about – he served on the state Seismic Safety Commission and has often advised the government about earthquake issues.
On his political wish list is protecting the California Earthquake Authority, which Cooley would like to see eventually benefit from off-again, on-again efforts to establish a federal earthquake insurance backstop.
Having such a backstop would lower the cost of premiums for earthquake protection by allowing the federal government to guarantee bonds issued by state catastrophe insurance programs, he said.
"I actually am sympathetic to the interest of the CEA in finding some way to get a federal backstop that would allow them to not have to put money out on a regular basis for reinsurance so that they might accumulate more of a corpus of funds to back up their system and ultimately lower the cost of insurance or reduce deductibles," Cooley said. "Cash accumulation is an important issue for the long-term future of the CEA because, unless they find a way to accumulate greater quantities of cash, year in, year out, it's harder to modify the policies to make them more accessible."
His experience puts Cooley in a good position to offer advice to any insurance professionals considering entering public service – whether it's local politics, at the state or beyond.
"The skill set of working with your clients, being in a customer-facing business, listening to them, understanding what's going on, applying your diligence as a professional to figure out the most apt way to meet their need – that is great training for public service, at the local level and eventually the state level," Cooley said. "Mastery of one's own profession, I think, is a good preparation for public service."
More articles in the Insurance Pros in Politics series from Insurance Journal:
Being an Agent Prepared Tennessee Sen. Ketron for Politics
Shealy is Sole Woman in South Carolina Senate
Georgia's Kingston Brought His CPCU to Congress
Agent Ted Gaines Eyes California Commissioner Seat
Insurance Business a Good Training Ground for Political Leadership
Insurance Pros in Politics: Midwest Politicians Work as Insurance Advocates
Insurance Pros in Politics: Insurance Veterans Elect to Also Work in State Legislatures
Insurance Pros in Politics: Beth Gaines Wants More "Business-Friendly" State