LA Auto Show: Connected Cars Coming Out of the Barn
Remember driving to the nearest pay phone to return a page? That's about as far away from today's technology as was the horse drawn carriage from the days of pagers and buck-a-gallon gasoline.
That much was clear during the Connected Car Expo at the 2013 LA Auto Show in Southern California. The giant annual car show at the Los Angeles Convention Center opens Friday and runs through Dec. 1.
Organizers of the show hosted a press event earlier in the week for the Connected Car Expo in which several panels of experts tackled mobile connectivity.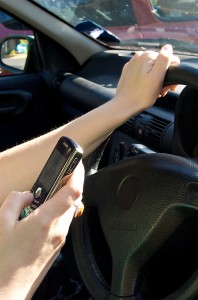 Panel titles included: "Infotainment Standard Time – One for All or Every Automaker for Themselves?" "Connected Critical Dialogue: Overcoming the Distracted Driving Roadblock," "Is Big Data the Next Big Thing?" "Connected Critical Car Dialogue: Technology Takes the Wheel – Our Autonomous Driving Future."
Panelists from several well-known automakers and communications companies covered as many conceivable topics on connectivity in automobiles as they could in their allotted time, including the issues of driving safety and whether connectivity should be limited and devices like cellphones banned or at least more stringently controlled in motor vehicles.
"There's no question the horse is out of the barn," Bruce Mehler, a research scientist at MIT AgeLabe and the New England University Transportation Center, who was on the Distracted Driving panel. "Connectivity is out there in the world."
He was responding to concerns about connectivity in motor vehicles and questions as to how much more regulation is needed that was posed by Kevin Vincent, chief council of the National Highway Traffic Safety Administration.
Vincent said the message to "put the phone down" must be hammered home for drivers, and said NHTSA is currently working on phase two of its distracted guidelines.
"We are planning on making recommendations on reducing distractions with handhelds," Vincent said.
Mitch Bainwold, CEO of the Alliance for Automobile Manufacturers, favored integrated connectivity in automobiles over outright bans or highly restrictive regulations on communications in vehicles.
He said any public policy that comes out should focus on encouraging safer, and already regulated, integrated communications technologies that don't require users to look down at a handheld device.
"At some point we need public policy to focus on that core choice," he said, referring to the choice between enabling drivers to use integrated communications in their cars or looking down at a cellphone to text, email, social network or surf the web.
And more and more drivers are doing a variety of those communications tasks, making such activities nearly as popular as using cellphones to call people while driving, according to Patrick Gardiner, president of Global Automotive at The Nielsen Co.
Gardiner was part of the Big Data panel.
While calling on the phone is still the top in vehicle activity among those polled who say they use communications devices while driving, the acts of texting, emailing, social networking, conducting web searches and even online shopping are growing in popularity, he said.
"Some consumers are using the phone for shopping in the car," he added.
Fellow panelist Ben Vos, vice president and general manager of Sprint Emerging Solutions Group, said Sprint's goal in the automotive connectivity space is to leverage itself as a large service provider.
The company spun off a company called Pinsight Media+, which works directly with brands, advertisers and app developers to deliver mobile advertising, mobile commerce, analytics and premium services.
The immediate goal is to create more specific advertising and marketing for "opt in" users of mobile communications devices in an effort to conduct what Vos referred to as "geotargeted advertising."
With more integrated communications going into vehicles, said Scott Frank, vice president of marketing for connected vehicle services firm Airbiquity Inc., the ultimate, industry-wide goal is to make passenger vehicles "one big wireless device."
According to Niall Berkery, executive director of sales and business development Telenav, that goal is closer than many may think.
Berkery said the personalized navigation services provider has 35 million customers and the company is generating a massive amount of data on their usage en route to figuring out how best to provide communications and information to drivers.
"On a daily basis we're generating about 20 terabytes of data," he said.
To get an idea of what personal in-vehicle communications and navigation systems will look like in the future just look at the fleet market, said Kevin Link, senior vice president of Verizon Telematics.
"We have fleet solutions, we have aftermarket solutions and we have (original equipment manufacturer) solutions," he said.
However, Link focused on the fleet market, which he said is far ahead of the game in terms of implementation, as well as return on investment.
"We have a very quick ROI in the fleet market," he said, adding that data in idling, data to ferret out fraud, and data on driver safety are big drivers of telematics in the fleet market.
"There is big demand in the fleet space, which is a very mature industry," he said.
Beside collecting data from the vehicles, Toyota Corp. is using data from the internet to collect information on behalf of its vehicles – particularly in terms of customer satisfaction.
Through the company's Toyota Social Media Intelligence Center, Toyota plows through data to figure out whether customers are satisfied or dissatisfied with their vehicles through social networking postings, blogs and other remarks left out there in cyberspace, said Jim Pisz, corporate manager of Toyota's North American business strategy.
Through its program the company has found a few of what it calls "silent sufferers," Toyota owners who are unhappy about their cars but have not logged any official complaints with the company.
In one instance the program found a man who expressed displeasure with his Camry via a blog. The employees within the program started the process of getting his issues resolved and reached out to him to offer help with his complaints, according to Pisz.
"We did open up a case file without him having to call us," he said.