Tsunami Advisory In Effect for Hawaii from Chile Quake
U.S. officials say they've found no imminent threat of a tsunami along the coasts of Hawaii, Alaska, California, Oregon or Washington after a major earthquake near Chile.
Paul Whitmore, the director of the National Weather Service's West Coast and Alaska Tsunami Warning Center, says the greatest potential threat from Tuesday night's quake is to Hawaii.
A tsunami advisory continues to be in effect for Hawaii, according to the latest update issued by the Pacific Tsunami Warning Center.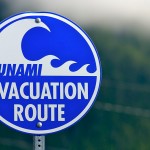 The center is reporting a slight rise in tide levels at Hawaii's Big Island and Maui. Scientists warned the change in tidal conditions can create strong currents, which can be dangerous for boaters and swimmers. According to reports, Hawaii beaches were closed Wednesday morning as a precaution.
The U.S. Geological Survey says the quake with a magnitude of 8.2 struck in an area that has been rocked by numerous quakes over the past two weeks.
Authorities in northern Chile discovered surprisingly light damage and just six reported deaths Wednesday from a magnitude-8.2 quake
Copyright 2021 Associated Press. All rights reserved. This material may not be published, broadcast, rewritten or redistributed.