California Wildfire Destroys 13 Homes, Hundreds of Homes at Risk
Firefighters in Northern California made progress Sunday against a wildfire that has destroyed 13 homes and forced hundreds of evacuations in the Sierra Nevada foothills, while a fire near Yosemite National Park that destroyed one home grew significantly overnight.
East of Sacramento, the Sand Fire in the Sierra foothills has burned roughly 6 square miles of steep, rugged terrain near wine-growing regions in Amador and El Dorado counties since Friday, according to the California Department of Forestry and Fire Protection.
The fire, which also destroyed 38 outbuildings, was 50 percent contained Sunday night, but 515 homes remained at risk and under evacuation orders, a CalFire statement said.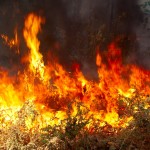 About 1,900 firefighters, aided by aircraft including a DC-10 air tanker, were working to control the blaze.
CalFire officials say the fire started Friday when a vehicle drove over dry vegetation.
Meanwhile, a wildfire that began Saturday west of Yosemite National Park quadrupled in size overnight to more than 3 square miles. It destroyed one home in the small community of Foresta, adjacent to the park, fire officials said.
An estimated 100 homes in Foresta and the small community of Old El Portal were evacuated Saturday,
About 400 firefighters, aided by fixed-wing helicopters, battled the flames, and the cause wasn't immediately known, according to fire officials.
Copyright 2021 Associated Press. All rights reserved. This material may not be published, broadcast, rewritten or redistributed.