Troubled California Refinery Slated for Overhaul
Leaders of a San Francisco Bay Area city approved a $1 billion upgrade of Chevron's troubled 1960s-era oil refinery, the largest in Northern California, after the company agreed to safety and piping upgrades and greater community investment, a newspaper reported.
The Richmond City Council's 5-0 vote for the overhaul came Tuesday night after it listened to more than 70 people who had signed up to speak about the project, the Contra Costa Times reported.
The late changes hammered out by Chevron and city staff included $90 million in community investments – up from the company's earlier commitment of $60 million – and safety improvements such as piping upgrades and more sensors and air monitors.
"It became clear we would need to do this," refinery General Manager Kory Judd said of the concessions. "We knew the city and the community would hold us to a higher standard, (but) this puts a significant constraint on our operations."
The refinery complex in this industrial, working-class city has weathered a series of toxic releases and other accidents over the years, environmental officials say, including a pollutant-laced 2012 fire that forced 15,000 Bay Area residents to seek treatment for breathing problems.
Chevron sought approval for technological upgrades that would allow the refinery to process higher-sulfur crude oil, among other changes. Oil company officials earlier this month agreed to a plan backed by state Attorney General Kamala Harris that would cap the plant's greenhouse-gas emissions and reduce levels of sulfur processing as part of the overhaul.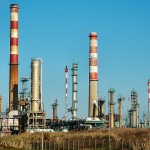 But opponents say the project does too little to limit pollution and improve safety. Environmental groups and some residents say Richmond bears the brunt of toxic releases by the refinery complex. Richmond has poverty levels nearly twice those of the U.S. and California as a whole, and Chevron's taxes make up about a third of the city's budget.
Two council members, including Mayor Gayle McLaughlin, abstained from the final vote, according to the Contra Costa Times.
McLaughlin called on Chevron's Judd to do more to reduce emissions. Judd said the company already was going well beyond legal requirements.
The Chevron refinery was built before the pollution-curbing requirements of the federal government's 1970s Clean Air Act.
Chevron still must get a county court to lift a judgment halting a previous version of the project before construction can begin, the Times reported.
Copyright 2021 Associated Press. All rights reserved. This material may not be published, broadcast, rewritten or redistributed.