Climate Change Considered by Idaho Leaders
Despite the uncertainty over the scale and the speed of climate change, Idaho leaders are working on how to adapt and how to reduce its impacts.
Boise law firm Holland & Hart held a workshop for its Idaho clients and lawmakers last week at which scientists and policymakers examined how the state can reduce the effects of warmer winters, earlier spring runoffs and an increase in wildfires. The meetings came the same week that President Barack Obama's Council of Economic Advisers reported that delaying action to reduce carbon dioxide and other greenhouse gases by a decade could cost the U.S. economy $150 billion annually.
Handling Changes
Like people across the U.S., some Idahoans remain skeptical about how much human activities already have contributed to any changes, said Holland & Hart attorney William Myers, who served as solicitor general in the Bush administration's Department of Interior. And it is hard for many people in Idaho to get worked up about a possible 1.25 inch-per-decade rise in global ocean levels that Obama has posited.
No matter the cause, climate change has forced managers to act and politicians to debate.
"There's no doubt about the timeliness of the issue," Myers said.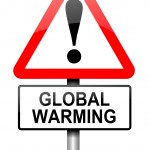 Scientists in the West are documenting longer and hotter fire seasons, and less water stored in the mountains because of earlier snowmelt. Biological changes that scientists already see range from a rise in previously tropical diseases, such as West Nile virus, to warmer water temperatures that threaten salmon and trout.
These changes challenge Idaho homeowners, farmers and businesspeople whose livelihoods depend on the state's natural resources.
Idaho hasn't ignored climate change, despite the polarization over its causes. In 2007, Gov. C.L. "Butch" Otter directed the Idaho Department of Environmental Quality to develop a greenhouse gas inventory and provide recommendations for reduction. Otter argued that the state benefits from energy efficiency, even as he opposed "cap-and-trade" legislation that would have created a market for carbon pollution with a goal of reducing greenhouse gas emissions.
Carbon pollution released in the use of fossil fuels is one of the leading greenhouse gases.
The latest Idaho State Water Plan urges policy-makers to promote preparedness, planning and flexibility to respond and adapt to "climate variability" as the state looks at new water storage reservoirs and aquifer recharge.
The city of Boise developed an emissions-reduction program as it joined other U.S. cities in a commitment to address climate change. Blaine County has gone to a four-day work week to reduce its carbon footprint by shrinking the amount of time it has to heat buildings and the miles its workers drive, said Commission Chairman Larry Schoen.
"We're talking about it in Blaine County and globally," Schoen said.
Fires And Erosion
Fire has captured much of the public attention in Idaho when it comes to climate.
More than half of Southern Idaho's forests have burned over the past 20 years. About 11,000 years ago, fires reshaped Idaho's landscape in the form of landslides and erosion, said Boise State University geologist Kerrie Weppner.
Weppner uses carbon testing to age charcoal from ancient fires to determine how quickly change has happened in the past.
Based on her research, she predicts more landslides such as those that occurred near Hailey after last year's Beaver Creek Fire, and more of the kind of erosion that has reshaped the Boise River watershed in places such as Rabbit Creek, which has suffered major slides after two decades of wildfire.
"This instability can last for weeks or years," Weppner said.
Such erosion adds to, or sometimes even counters, other climatic effects, said Charles Luce, a Forest Service hydrologist in Boise who has become a top researcher in the Northwest on changing precipitation patterns.
The amount of water that falls in the Boise River watershed has declined by about 20 percent since the 1940s, he said. The burning of 50 percent of the forest canopy in the past 20 years means fewer trees store the water that does fall, increasing runoff by 5 percent.
This dynamic makes looking for creative ways to store mountain water critical to protect Idaho's water supply, said David Tuthill, the former director of the Idaho Department of Water Resources. Some of this storage could be in traditional reservoirs, but Tuthill also is working with landowners in places where water could be stored in aquifers.
Most of the talk about recharge has revolved around the Eastern Snake River Plain Aquifer, the state's largest. It stretches from the edge of Yellowstone to near Glenns Ferry. The discussion is primarily about how to store more water to benefit agriculture through irrigation.
Most of these efforts have been around the idea of a central state program, not private efforts that might function more widely and more efficiently. But if deliberately refilling natural underground reservoirs can be used more imaginatively, it could offset the lost natural storage in snow.
"The concept of recharging aquifers just hasn't gotten going," Tuthill said.
Uncertain Timetables
Other Idaho adaptation measures include making homes and communities more fire-resistant. Blaine County has banned development in steep, erosion-prone areas and requires new homes to have fire-resistant roofs. Boise made similar changes after the 2008 Oregon Trail Fire.
Idaho and the Bureau of Land Management cooperated to develop rural fire districts so ranchers have the training and organization to jump on range fires before federal firefighters can, Myers noted.
The adaptation discussions are based on history as well as climate forecasts. The model for change ranges from the pace we've seen over the past century to more accelerated change.
Forests might be altered dramatically, Weppner said, as trees that once thrived in Idaho are replaced by trees that grow in warmer, drier conditions.
"What is the time frame we're talking about?" Myers asked Weppner during the Holland & Hart workshop. "This is something that could happen in a matter of decades, or are we talking about centuries?"
Weppner said it could be "decades, centuries or even longer."
Over the past 35 years, Idaho's Snake River wine region has seen its frost-free period increase by about a month, which means increased sugar content in grapes. That has allowed growers to branch out from white wines to richer reds now prized throughout the nation.
But the change in a growing season can have mixed benefits – such as requiring more water for a longer irrigation season.
Such potential effects are why government and individuals need to manage their risks now, Blaine County's Schoen said. That means listening to scientists and using the data available today.
Sometimes you have to try things, you have to experiment," Schoen said. Sometimes you have to try new things without perfect knowledge."
Copyright 2021 Associated Press. All rights reserved. This material may not be published, broadcast, rewritten or redistributed.