Traffic Fatalities Rose 16 Percent in Utah in 2014, Report Shows
The Utah Department of Transportation says 256 people died on roadways across the state in 2014, up 16 percent from 2013.
It was Utah's highest death toll since 2008, and it reversed a trend that saw fatalities drop 41 percent during the previous 13 years.
A department report says preliminary numbers show aggressive driving resulted in 68 deaths and drunken or impaired driving was a factor in 26 deaths.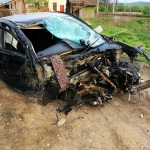 Department spot checks show 83 percent of people wear seat belts, but nearly half of all people killed in accidents last year were not wearing them.
Of the total increase of 36 deaths last year, 25 involved motorcyclists, pedestrians and bicyclists.
Motorcycle deaths climbed from 31 to 45, pedestrian deaths increased from 31 to 39 and bicycle deaths rose from six to nine.
Copyright 2021 Associated Press. All rights reserved. This material may not be published, broadcast, rewritten or redistributed.