Nevada Tornado Damages Businesses and Homes
A tornado ripped through the Nevada town of Hawthorne on Friday afternoon, damaging homes and businesses, causing scattered power outages and temporarily shutting down a highway, authorities said. No injuries were reported.
The 3:30 p.m. tornado touched down east of the town of 3,000, located about 140 miles southeast of Reno, and swept west along U.S. Highway 95, damaging five businesses and four or five homes, said Mineral County Undersheriff Bill Ferguson.
Three of the homes were severely damaged, with either roofs or a wall blown down, he said. Roofs, awnings and signs were blown off businesses. Heavy rain flooded streets and some buildings, and golf-ball-sized hail was reported.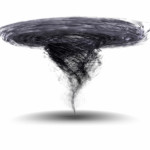 "It's the first time in 37 years I've lived here that I've seen anything like it," Ferguson told The Associated Press. "People were scared. They were in a state of shock. It's a good thing nobody was injured."
The tornado also knocked down power lines, street lights and trees, closed U.S. Highway 95 through town for roughly an hour and picked up a car and pushed it about 10 feet outside one home, he said.
National Weather Service forecaster Marvin Boyd in Reno said tornadoes in Nevada are rare and the event in Hawthorne was on the ground for only a minute or so. It's believed to have involved wind speeds between 65 mph and 85 mph, but was relatively minor, he added.
"It's very rare for them to hit a populated area in Nevada," Boyd said, adding that most tornadoes in the sparsely populated state occur in remote areas where they go unnoticed.
The weather service issued a severe storm warning after hail was reported in Mineral County about 15 minutes before the tornado touched down, he said.
Rain totals weren't immediately available.
A funnel cloud north of Reno on Friday afternoon never touched down, according to the weather service.
Copyright 2021 Associated Press. All rights reserved. This material may not be published, broadcast, rewritten or redistributed.