Utah City's Basements Flood After Large Reservoir Leak
Residents of Ogden, Utah have been facing flooded basements since June, but the area-irrigation water supplier may have found the problem: a leak in a nearby reservoir.
The Standard-Examiner reported that the general manager of Pineview Water Systems says crews found a depression in their reservoir when lowering the water level. He says the depression may be adding to the flow of groundwater in 15 nearby basements.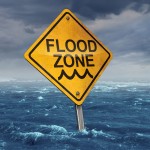 Officials say Pineview's insurance carrier will contact affected homeowners.
Copyright 2020 Associated Press. All rights reserved. This material may not be published, broadcast, rewritten or redistributed.