Fire Burning Near California Ski Resort Threatens Homes
Hundreds of mountain homes remained threatened on Monday as crews increased containment of a wildfire burning through timber near a popular Southern California ski resort.
Water cannons usually used for making snow were pointed at the fire burning near Snow Summit resort in Big Bear Lake, about 100 miles east of Los Angeles.
Near Snow Summit resort, firefighters working through the night held the blaze to about 100 acres. It was 30 percent contained early Monday.
Evacuation orders were in place for up to 500 homes, many of them cabins and vacation houses.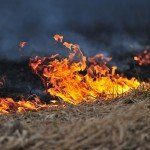 All schools within the Bear Valley Unified School District were closed Monday because of the fire. Several mountain roads were off-limits.
Meanwhile in Central California, firefighters were chipping away at a much larger blaze burning for several weeks that led to the evacuation of thousands of people and destroyed a lodge in Kings Canyon National Park.
Fire crews increased the blaze's containment to 7 percent over the weekend, the U.S. Forest Service said. The wildfire has burned across more than 73 square miles of timber and brush left parched by the state's extended drought.
At least 2,500 campers, hikers, employees and residents fled the area last week, including staffers and summer campers at The Hume Lake Christian Camp.
Nobody was hurt when the Kings Canyon lodge, which bills itself as a folksy getaway for tourists, was burned to its foundation.
The lightning-sparked blaze has been burning for three weeks. It is one of at least 15 wildfires burning across California.
Copyright 2020 Associated Press. All rights reserved. This material may not be published, broadcast, rewritten or redistributed.