New Mexico County Declares Disaster after Storm
The San Juan County Commission in New Mexico has declared a state of disaster following a violent storm that swept through Aztec and caused what officials estimate is more than $1 million in damage.
The Daily Times reported the commission approved the resolution this week, allowing the county to request state funds to repair public property that was damaged by the Aug. 26 storm.
Officials say the storm's quick rainfall overwhelmed culverts, cut streams into dirt roads, flooded buildings and closed SunRay Park & Casino's horse racing track for the season.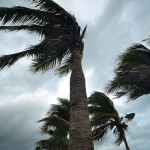 Clay Anderson, a National Weather Service meteorologist, says Aztec and nearby communities was hit with heavy rainfall that totaled between 1.5 and 2 inches. Some residents reported almost 4 inches of rain during the storm.
Copyright 2021 Associated Press. All rights reserved. This material may not be published, broadcast, rewritten or redistributed.