WCIRB: Los Angeles Workers' Comp Claims Outlier in California
California's Workers' Compensation Insurance Rating Bureau released a study on Friday showing significant differences in the costs of claims among the state's regions – particularly Los Angeles.
The WCRIB Study, Geographical Differences in Workers' Compensations Claim Costs, shows the Los Angeles region "experiences significantly higher claim frequency relative to the rest of California."
The Silicon Valley and San Francisco Bay Area regions experience lower claim frequencies.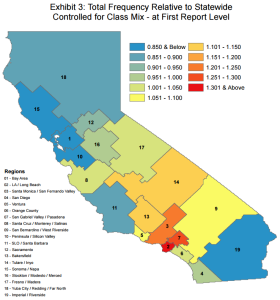 The study controls for wage level differences and industrial mix. It also found that claim severities tend to be higher in the Central Valley and many of the urban coastal areas, but lower in the more remote, rural areas of the state.
The Study examines geographical differences in:
Indemnity frequency
Total frequency
Incurred indemnity on indemnity claims
Median injured workers' average weekly wages
Incurred medical on indemnity claims
Cumulative injury and occupation disease claims
The study a mapping of ZIP codes to the study's regions are available on the WCIRB website in the Research and Analysis section.
Related: