Lack of Fire Alarms Common in Washington City Apartment Complexes
The Everett, Wash. fire marshal says a recent inspection shows 19 of 26 apartment complexes inspected in the city lack proper fire alarm systems.
Fire Marshal Eric Hicks says the owners of those complexes are currently being ordered to install the alarm systems as required by city code.
Hicks says the inspections were done after an apartment complex without the alarm system was consumed by fire New Year's Eve, killing at least one person, injuring five others and forcing more than 100 residents out of their homes.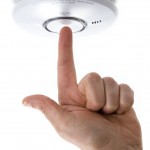 The Daily Herald reported city codes require a central fire alarm system, the kind where someone can pull a lever, on apartment buildings with at least three stories or more than 16 units.
City officials plan to inspect 30 additional complexes.