Judge Questions Lyft's Revised Pay Deal with California Drivers
Lyft Inc. may have more work to do to win court approval of a settlement with 163,000 California drivers who sued to be treated as employees.
U.S. District Judge Vince Chhabria in San Francisco on Thursday indicated he's hesitant to approve a deal that would pay the drivers $27 million and leave them classified as independent contractors. He ruled in April that an initial $12.5 million offer would shortchange drivers in light of the company's surging revenue.
The judge asked for more information about the company's exposure in a related lawsuit over tips for drivers and whether it's appropriate for a settlement to include a broad release from liability for those claims.
"Shouldn't we have an understanding of what the release covers and what it doesn't?" Chhabria asked lawyers. At the end of the hearing, the judge said he'll try to rule soon on the approval request.
Along with its larger rival Uber Technologies Inc., Lyft is trying to avoid a trial over drivers' claims seeking the pay and benefits of employees. Later on Thursday in the same courthouse, Uber is set to ask a different judge for preliminary approval of a similar $100 million settlement with its drivers.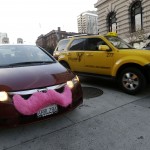 While a lawyer for Lyft told the judge that the amount at stake is "tiny" in the separate case over tips, Chhabria said he'd like to see calculations. He also said the claims in the case filed this month, which involves tips during "prime-time" periods when drivers are in high demand, may be "too late" to consider in the main suit that was filed three years ago.
If Chhabria approves the Lyft accord, current and former California drivers will be told they can claim their share of the payout, object to the deal or opt out, before a final settlement hearing.
Chhabria rejected the earlier settlement after concluding that the payout for drivers didn't account for the company's skyrocketing growth through the middle of February. The judge figured that, if the drivers won at trial, the actual value of the reimbursement they sought for mileage and expenses was at least $126 million, and that other potential claims might make the case worth about $170 million.
The overall average payout under the revised accord is $141.98, with about 88,000 drivers who worked less than 30 hours collecting no more than $42 each and about 80 who drove for more than 2,000 hours receiving $5,556 or more, according to a court filing.
The drivers also negotiated for provisions that protect them against arbitrary deactivation and cover fees for arbitration proceedings over disputes.
The case is Cotter v. Lyft Inc., 13-cv-04065, U.S. District Court, Northern District of California (San Francisco).
Related: