Comcast Sued By Oregon Cyclist Clotheslined By Cable
An Oregon cyclist who was clotheslined by a cable cord suspended across a road is suing Comcast and Portland Disposal.
Portland attorney, Mark Ginsberg told the Oregonian that his 64-year-old client Michael A. Horner was bicycling to work at Shriners Hospital for Children in February 2015 when he rode into the cable.
The lawsuit says Horner landed on his back and fractured his spine and three ribs.
Ginsberg said a Comcast subcontractor put the cable up high but it was dragged down by a Portland Disposal & Recycling truck.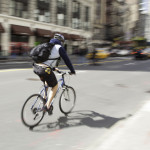 Comcast and Portland Disposal declined to comment.
Ginsberg said Horner's injuries took him out of work for three months. Horner manufactures orthotics and prosthetics at the hospital.
The $342,000 lawsuit seeks compensation for medical expenses, lost income and pain and suffering.
Copyright 2021 Associated Press. All rights reserved. This material may not be published, broadcast, rewritten or redistributed.