Hail Damage Claims from Montana Crops on The Rise
State officials say damage claims for Montana crops due to hail are nearly double what they've been in recent years.
The Billings Gazette reported the state Department of Agriculture's Walt Anseth says farmers submitted 200 insurance claims from January to May. Claims from June haven't yet been counted, but officials usually receive only about 100 claims through early July.
Federal data shows Montana has had 266 reports of hail at least three-quarters of an inch in size this year. That's a little more than the 20-year average of 263 reports of hail that size a year.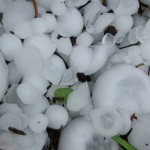 Anseth says the department's hail program will cover the claims.
The program had provided refunds to farmers for years up until 2013, when storms in central Montana and the Hi-Line raised claims.
Copyright 2021 Associated Press. All rights reserved. This material may not be published, broadcast, rewritten or redistributed.