Jury Awards $46M to Man Who Lost Leg in Crash at Nissan Dealership
A jury has awarded $46 million to a man who lost a leg after he was struck by a driver working for a Southern California Nissan dealership.
Lawyers for Faustino Solorio say a panel deliberated less than two hours Tuesday before finding Nissan of Fontana liable in a negligence lawsuit.
Nissan's lawyer, Craig J. Silver, says the amount is unreasonable and he'll ask a judge to reduce it. He also plans an appeal.
Solorio lost his left leg above the knee in 2013 after he was struck by a Nissan parts delivery driver in Redlands.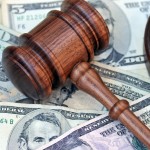 Solorio was standing behind a parked truck. The collision sent him through the driver's windshield.
His lawsuit says Solorio, who's 53, will need lifelong medical care, including a prosthetic leg he's been unable to afford.
Copyright 2021 Associated Press. All rights reserved. This material may not be published, broadcast, rewritten or redistributed.