Lawyers for Washington Landslide Victims Accuse State of Fraud
Attorneys for victims and family members in the deadly 2014 landslide in Washington state have accused state lawyers of orchestrating a fraud to hide the truth by deleting emails between defense expert witnesses.
In a motion filed Tuesday, the attorneys say the state has spent over $3 million in taxpayer dollars developing the opinions of its seven-person expert team. They claim that undertaking, however, was started with a pact approved by the attorney general to destroy emails and deceive about what they were doing.
The plaintiffs say they obtained some of the emails sent among the state's expert witnesses that were mistakenly spared from deletion. They allege the emails show that the experts were "constantly shifting their story in service of the state's defense."
"What we will never know is the true depth of this deceit, because the vast majority of emails were destroyed and will never see the light of day," the attorneys wrote.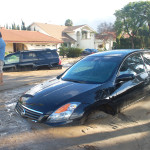 A total of 43 people were killed in the March 22, 2014 slide in Oso, about 60 miles northeast of Seattle.
The plaintiffs are requesting that Judge Roger Rogoff impose sanctions ranging from instructing a future jury to draw a "negative inference" from the email deletions to entering a liability judgment against the state.
The attorney general's office didn't immediately respond to a request for comment, The Seattle Times reported.
The civil lawsuit set for trial this fall is expected to involve one of the largest tort claims in Washington history with the state, as well as Snohomish County and Grandy Lake Forest Associates, as defendants.
A major part of the case is focused on actions by the state, including the construction of a cribwall and sediment pond, that the lawsuit says increased risks to the community.
Related:
Copyright 2022 Associated Press. All rights reserved. This material may not be published, broadcast, rewritten or redistributed.