USGS Confirms M3.1 Quake Hits in Oregon
The U.S. Geological Survey confirmed that a minor earthquake hit roughly16 miles northeast of Salem, Ore.
The agency says a magnitude-3.1 temblor struck at about 9:29 p.m. Monday with an epicenter about three miles northwest of Woodburn.
The agency reported the earthquake was about 14 miles deep.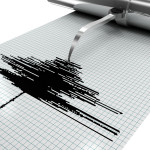 No damage was immediately reported.
Copyright 2021 Associated Press. All rights reserved. This material may not be published, broadcast, rewritten or redistributed.