Montana Bill Would Overturn Bans on Using Cellphones While Driving
A Great Falls, Mont. lawmaker has introduced a bill that would prevent local governments from placing bans on talking or texting on a cellphone while driving.
Republican Rep. Jeremy Trebas tells the Great Falls Tribune that studies have not shown such bans result in fewer crashes or insurance claims.
Russ Rader, a spokesman for the Insurance Institute for Highway Safety, said hand-held cellphone and texting bans do change driver behavior, but the institute has not found any evidence there is a corresponding reduction in crashes in states that enact the restrictions.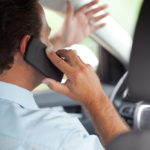 Montana does not have a statewide ban, but 10 cities and towns do, including Billings, Bozeman, Butte, Great Falls, Helena and Missoula.
Copyright 2021 Associated Press. All rights reserved. This material may not be published, broadcast, rewritten or redistributed.