California Awards Contractor $275M Contract to Fix Troubled Dam
California water officials say they have awarded a contract to repair Oroville Dam's two damaged spillways to a Nebraska construction company.
The Department of Water Resources announced that Kiewit Corp. of Omaha was awarded a $275 million contract to repair the state's second largest reservoir.
Kiewit made the lowest bid of the three companies but its offer is still higher than the $231 million estimated by the department. The department said Saturday it estimated repair costs at $220 million but corrected that figure on Monday after finding an error.
Officials have said they want to have the work done by Nov. 1.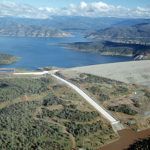 In February, authorities ordered the evacuation of 188,000 people downstream after surging releases of water tore away big chunks of the spillways.
Related:
Copyright 2021 Associated Press. All rights reserved. This material may not be published, broadcast, rewritten or redistributed.