Colorado Wildfire Evacuation Order Lifted in Foothills
Authorities have lifted evacuations prompted by a wildfire burning near a heavily populated area in Colorado.
The fire burned almost half a square mile of brush-covered foothills south of Fort Collins, triggering an evacuation south of Horsetooth Reservoir that was lifted over the weekend.
KDVR-TV reported the fire was about 40 percent contained.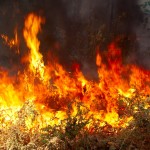 Helicopters have been using Horsetooth Reservoir to scoop up water to drop on the fire.
Authorities tell boaters to make room for the helicopters by keeping away from the middle of the reservoir.
Copyright 2020 Associated Press. All rights reserved. This material may not be published, broadcast, rewritten or redistributed.