Costs to Repair California's Damaged Oroville Dam to Top $500M
California officials say repair costs at the nation's tallest dam will be nearly double the original estimate of $275 million.
Department of Water Resources spokeswoman Erin Mellon said last week the contract with Kiewit Corp. at 770-foot Oroville Dam will grow to more than $500 million.
Kiewit project director Jeff Petersen said the project has required significantly more excavation and concrete than expected.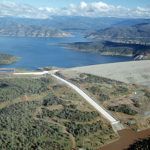 The main spillway and emergency spillway suffered significant damage during storms last February, prompting fears of massive flooding. Tens of thousands were evacuated but disaster was averted.
Petersen said the project is on schedule to finish pouring concrete on the main spillway by Nov. 1.
Related:
Copyright 2020 Associated Press. All rights reserved. This material may not be published, broadcast, rewritten or redistributed.