Top Insurance Journal West Stories of 2017
Trade secrets and Hippos, lawsuits and tragedies.
The news for 2017 didn't seem to be dominated by a single trend or sole event, but in an ever-fractured media world that must try and cater to short attention spans and social media, maybe that's not so surprising.
The most read story in Insurance Journal's West region was coverage of a lawsuit in California filed by Farmers Insurance against a pair of former employees and the Automobile Club of Michigan alleging the theft of trade secrets.
The lawsuit, which alleges among other things violations of the California Trade Secrets Act, unfair competition, and breach of fiduciary duty, seeks damages to be named at a trial, a temporary restraining order and a preliminary injunction preventing the defendants from using Farmers' trade secrets.
The suit filed at the end of October in Los Angeles County superior court alleges that Venkatesh Kamath, former director of personal lines auto IT for Farmers, left the L.A.-based carrier and took trade secrets with him to Auto Club Michigan. It also accuses Shohreh Abedi, a former chief information officer of Farmers, of recruiting Kamath to get that information to use at Auto Club Michigan.
Both now reportedly hold executive titles with Auto Club Michigan.
Insurtech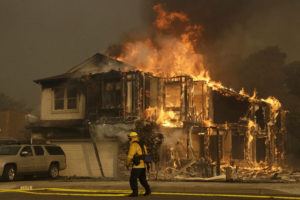 Hippo Insurance joined the herd of insurtech's that plodded their way into the market in 2017.
The Mountain View, Calif.-based company announced its launch in California in April, making waves with its promise to provide online homeowners insurance quotes in 60 seconds.
Hippo says it's offering a product that can be quoted and purchased almost instantly online – and at lower prices. According to a company executive, a homeowners policy can be bound in roughly three minutes.
Hippo raised funds for more than two years. At the end of 2016, the firm announced it closed a $14 million Series A round led by Horizons Ventures, which invests in disruptive technology and startups. It was joined by RPM Ventures, Propel Venture Partners, GGV Capital and Pipeline Capital as well as number of FinTech investors and entrepreneurs.
Sedgwick
The closing of a firm was another top read story in the West region.
However, it wasn't the closing of an insurance firm that grabbed so many eyeballs.
News that Sedgwick LLP, a San Francisco, Calif.-based law firm that represented numerous insurance clients, was closing garnered enormous interest from Insurance Journal readers.
Word of the closure came in the form of a letter sent out to employees in November making it known that Sedgwick will be closing January 2018.
"We have concluded that the best way to allow our lawyers to continue providing great service to our clients is by ceasing operations and moving to other excellent law firms," the letter stated. "We are pleased that most of our lawyers and staff have opportunities with very fine firms."
No further details about on the closures were given in the letter.
The 85-year-old firm has offices around the world, including offices in Chicago, Dallas, Kansas City, London, Los Angeles, Miami, New York and Seattle.
Wildfires
An article on California's wildfire siege in October was also among the top read news in IJ's West region.
The Oct. 10 story had interviews with several catastrophe modelers calling the fires a "larger scale disaster," which at the time had claimed 1,500 homes and commercial structures, burned more than 115,000 acres and reportedly killed 15 people.
Sadly, all of those figures continued to grow as thousands of firefighters worked to contain one of the worst fires in state history. In the middle of this month, the California Department of Insurance announced claims from the fires in Northern California had already topped $9.4 billion.
Southern California had its share of severe wildfires. The Thomas fire northwest of Los Angeles had grown into the third largest wildfire in state history by mid-December. As of this week, the fire had consumed 281,893 acres, making it the largest in state history, however it is now reportedly 91 percent contained. CalFire reports 1,063 Structures destroyed and 280 structures damaged in that fire.
Las Vegas shooting
Another tragedy also made the West region's top read list.
A story titled "450 Las Vegas Shooting Victims and Family Members of Deceased File Lawsuits," drew strong reader interest with the news that attorneys representing more than 450 victims of the Oct. 1 Las Vegas mass shooting filed lawsuits against the hotels where the shooting occurred.
The article covered news that attorneys Mo Aziz of Abraham, Watkins, Nichols, Sorrels, Agosto & Aziz and Chad Pinkerton, of The Pinkerton Law Firm, PLLC, have filed suits against MGM Resorts International, Mandalay Corp., MGM Resorts Festival Grounds LLC, Live Nation Entertainment Inc., Live Nation Group d/b/a ONENATIONGROUP LLC, Contemporary Services Corporation, and the Estate of Stephen Paddock in connection with the shooting at the Route 91 Harvest Festival in Las Vegas.
It's unlikely we've heard the last about suits over the shooting, which was found to be the acts of the solo gunman who killed almost 60 people and injured roughly 500 others when he fired into the crowd of a country music festival last month from his Mandalay Bay hotel room.
Other big stories for the West region included California lawmakers considering a move to dump health insurers, a Notice of Noncompliance sent to State Farm from the California Department of Insurance for refusing to reduce policyholders' rates, a California jury's $454 million verdict in a hospital gown suit, a California broker's plans to roll out a parametric earthquake product that pays even if there is no damage and the efforts to get admitted carriers interested in California's potentially budding market to insure marijuana businesses.
Related: