Lyft Driver Killed in Utah in Rollover Accident
Utah police say a Lyft driver has died after being ejected from the vehicle in a rollover accident east of Saltair.
They have identified the man as 26-year-old Aaron Roll of Holladay.
Unified Police say Roll was thrown from the car sometime before 3:30 a.m. Saturday along a frontage road.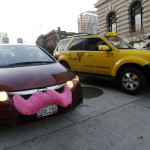 They say physical evidence at the scene indicates Roll veered into the weeds and apparently overcorrected, rolling his vehicle.
The Deseret News reports that a concert was held at the Saltair venue Friday night and the accident likely occurred after that.
Copyright 2018 Associated Press. All rights reserved. This material may not be published, broadcast, rewritten or redistributed.