USGS: M3.3 Quake Rattles Southern California Desert
A magnitude 3.3 earthquake has rattled the Southern California desert, the U.S. Geological Survey confirmed.
The USGS said the quake on Saturday was centered about 27 miles northwest of El Centro in the desert near the Arizona border.
It struck in the early evening.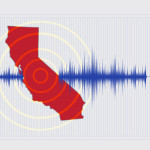 There were no immediate reports of damage or injuries.
Copyright 2021 Associated Press. All rights reserved. This material may not be published, broadcast, rewritten or redistributed.