Arizona Governor Vetoes Auto Insurance Bill, Signs Others
Arizona Gov. Doug Ducey has vetoed a bill requiring drivers to carry higher limits on their car insurance.
Ducey closed out the state's legislative session by signing 55 new laws and vetoing seven others.
Wednesday was the final day that Ducey had to act on 62 bills that state lawmakers passed in early May as they finalized next year's $10.4 billion state budget and other laws.
Some of the laws Ducey signed include a measure that will regulate robot delivery services, and change timelines for special elections.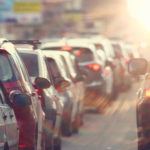 One of the measures that he vetoed would have required Arizona drivers to carry higher limits on their car insurance. Ducey said he was concerned that it could increase premium costs.
Ducey said he is open to the prospect of revising the limits but is concerned about making insurance less affordable for low-income drivers. State law currently requires $15,000 for injuries to any one person, $30,000 for all injuries from the same mishap, and $10,000 in property damage.
Ducey signed 346 bills and vetoed 23 others throughout this year's legislative session.
Copyright 2021 Associated Press. All rights reserved. This material may not be published, broadcast, rewritten or redistributed.