Charity First in California Names Dyson Area Executive Vice President
San Francisco, Calif.-based Charity First has promoted Maureen Dyson to area executive vice president.
She will lead company operations, including program growth and direction, product offerings, marketing and staff development.
Dyson has spent 16 years at Charity First, starting as an underwriter and underwriting supervisor.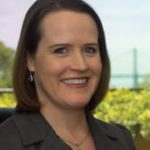 Charity First is a program manager in the property/casualty insurance industry focused on serving agency partners, nonprofit organizations, religious institutions and for-profit companies that provide social services and programs.