Washington County Settles Sexual Harassment Suit for $350K
A Washington county agreed to pay $350,000 to settle a sexual harassment lawsuit brought by two women who accused a male supervisor at the human services department of unwanted hugging, kissing and comments.
The Daily Herald reports the total combined settlement for Snohomish County and two other organizations was $800,000.
The women were employed by Lutheran Community Services and later the Stillaguamish Senior Center, with whom the county contracted at different times for programs.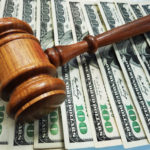 The agreement includes payment of $300,000 from SeaTac-based Lutheran Community Services.
The Stillaguamish Senior Center settled separately for $150,000.
County officials declined to comment on the agreement, but confirmed that the supervisor continues to work at the human services department. A spokesman for Lutheran Community Services did not return calls for comment. An administrator at the Stillaguamish Senior Center referred questions to an attorney.
Copyright 2021 Associated Press. All rights reserved. This material may not be published, broadcast, rewritten or redistributed.