Elevator Company Wants Judge to Reconsider $2M Nevada Jury Verdict
An elevator company is asking a judge to reconsider a jury's $2 million award to a California man who claimed in a lawsuit he was injured by a sudden drop in a Lake Tahoe casino elevator.
Schindler Elevator Co. filed the request last month, asking the judge to rule on the case or allow a new trial, the Tahoe Daily Tribune reported .
John Deatherage was on an elevator with his nephew at Harveys Lake Tahoe in July 2014, when the elevator "rapidly dropped before violently coming to a stop," according to the lawsuit filed in federal court.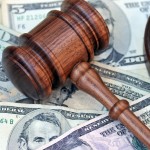 Deatherage claimed the drop caused a back injury, resulting in "extreme pain to his back, groin and leg." When the lawsuit was filed, he claimed his medical bills had reached more than $142,000.
The jury in July awarded compensatory damage to Deatherage, finding the elevator company acted negligently. The company was contracted by the casino to perform service and maintenance on elevators.
The weather conditions caused a power outage at the casino while Deatherage was in the elevator, the company claimed.
The elevator's descent did not cause Deatherage to fall down when it stopped, "nor was there any physical damage to the elevator," the company said in court filings.
The company declined to comment further, saying it "will address the case facts in court and not in the press."
Copyright 2020 Associated Press. All rights reserved. This material may not be published, broadcast, rewritten or redistributed.