Largest Wildfire in California History Officially 100% Contained
Officials announced on Wednesday that the Mendocino Complex Fire, the largest wildfire in California's history, is now 100 percent contained.
The blaze burned a combined 459,123 acres, destroyed 280 structures including 157 residences, killed one firefighter and injured four others. The Mendocino fire north of San Francisco broke the record set in December, 2017, when the Thomas Fire killed two people, burned 440 square miles and destroyed more than 1,000 buildings in Southern California.
The Mendocino occurred in rural areas and kept insured losses down.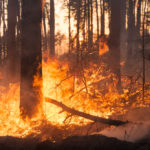 Insurance Commissioner Dave Jones announced earlier this month that the fires so far have resulted in over $56 million in insured losses.
Related: