Costs to Fight Wildfires in Utah Double This Year
Costs to fight wildfires in Utah are increasing by about $1 million a day right now and authorities expect the season to last throughout October.
State Forester Brian Cottam says on average, there are roughly 1,100 fire starts in Utah that burn about 195 square miles and carry a price tag of $50 million.
Cottam said during a Wednesday meeting in Logan, that so far this year, there have been more than 1,200 fire starts, 383 square miles burned and a cost of $100 million.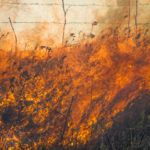 The Herald Journal reports that as of Wednesday, there were eight active wildfires in Utah.
Cottam says the drought has had a strong impact on this year's fire season.
He says current conditions allow small fires to easily grow into large fires.
Copyright 2021 Associated Press. All rights reserved. This material may not be published, broadcast, rewritten or redistributed.