Utah Lawmakers Draft Bill on Marijuana, Set for Consideration
Utah lawmakers and others involved in forging legislation to revise a voter-approved medical marijuana law say they've settled on a new version for consideration during an anticipated December special session.
The Utah Medical Cannabis Act set to be discussed during a legislative committee hearing this week would replace the ballot measure that voters approved Nov. 6.
The latest changes to the draft legislation hammered out Wednesday include dropping renter protections for medical marijuana patients and increasing the number of available licenses for cannabis pharmacies.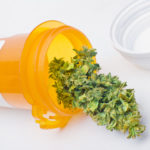 The legislation was originally proposed as a pre-election compromise between marijuana advocates, the Mormon church and legislators to gain the support of the church.
By passing the ballot measure, Utah joined more than 30 states allowing patients legal access to medical marijuana.
Copyright 2020 Associated Press. All rights reserved. This material may not be published, broadcast, rewritten or redistributed.