AM Best Revises Status to Developing for California Capital Insurance Co. and Subsidiaries
AM Best has revised the implications of the under review status to developing from negative for the Financial Strength Rating (FSR) of A- (Excellent) and the Long-Term Issuer Credit Ratings of "a-" of California Capital Insurance Co. and its subsidiaries.
The revised implications follow the recent announcement that Capital Insurance will be acquired by Auto-Owners Insurance Group. The transaction, subject to customary closing conditions and regulatory approvals, is expected to close by mid-year 2019.
The ratings will remain under review pending the completion of the transaction and AM Best's discussions with the company's management. The developing implications are due primarily to the potential of positive rating factors that may result post-acquisition, according to AM Best.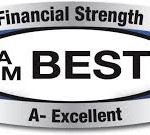 AM Best says it will continue to hold discussions with Capital's management throughout the process and will monitor the group's risk-adjusted capitalization, operating performance, business profile and enterprise risk management.
California Capital's subsidiaries are: Eagle West Insurance Co.; Monterey Insurance Co.; and Nevada Capital Insurance Co. These companies operate under an inter-company pooling arrangement, collectively referred to as Capital Insurance Group. All companies are domiciled in Monterey, Calif.
Related: