Venbrook in California Names Orlando Chief Financial Officer
Los Angeles, Calif.-based Venbrook Group LLC has named Joseph Orlando chief financial officer.
Orlando will assume operational leadership for all of the company's financial functions including accounting, corporate finance, audit, and treasury.
Prior to Venbrook Group, his 25 year career included CFO roles at Concord Blue Energy, Hyman Inc., and Suncor Capital.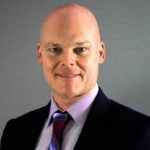 Venbrook Group, LLC is a holding company with subsidiaries engaged in retail and wholesale brokerage, program management, claims management and third-party administration.