United Valley Insurance Services in California Adds Peart
United Valley Insurance Services Inc. in Fresno, Calif., has named Kathy Peart a marketing specialist.
Peart is focused on assisting members on marketing and placing workers' compensation accounts with carriers.
She previously worked at the Leavitt Group, where she spent the last five-plus years helping clients and agencies with commercial lines accounts. Her background includes 15 years of property/casualty experience.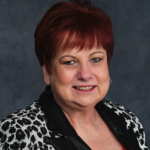 United Valley Insurance Services is a membership network of over 85 independently owned and operated insurance agencies with more than 110 locations throughout California and Arizona.