Crest Insurance in Arizona Names Hankal Commercial Lines Manager
Crest Insurance Group LLC of Scottsdale, Ariz. has promoted Lisa Hankal to commercial lines manager.
Hankal will be overseeing employees within the commercial lines department from all seven branches including Tucson, Scottsdale, Sierra Vista, Flagstaff, San Diego, Denver and Ft. Collins.
Hankal previously held the title of commercial lines supervisor for Crest and is a partner with the firm.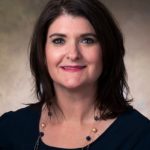 Hankal began her career in 1989 as an intern with AIG New Hampshire. Over the course of the next 31 years, she moved up with Schaefer Smith Ankeney, HUB International and finally Crest Insurance Group in 2014 as an account executive.
CREST has offices in throughout Arizona as well as in California and Colorado. The brokerage firm writes insurance business throughout the Southwest and continental U.S.