A wildfire in Northern California was burning out of control on Monday amid exacerbating conditions that pose the dangers of thunderstorms, and hot, windy conditions.
The McKinney Fire grew rapidly to more than 80 square miles after breaking out on Friday in an unpopulated area in Klamath National Forest.
CalFire listed the blaze as 0% contained as of Monday afternoon.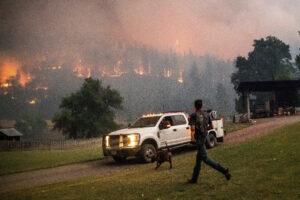 "While last night's weather mitigated fire spread, vegetation in the area is extremely dry and the continued threat of thunderstorms and the associated strong, erratic winds could result in increased fire behavior," CalFire's latest incident report states. "Firefighters will take advantage of the moderated conditions to construct containment lines today, while staying aware of the continued threat for convective activity in the area."
Multiple evacuation orders and warnings remain in effect.
Highway 96 in the area remains closed. So far, 16 crews, 10 helicopters, and 62 engines, have been dedicated to fighting the fire.
The cause of the blaze is under investigation.
Was this article valuable?
Here are more articles you may enjoy.