Overview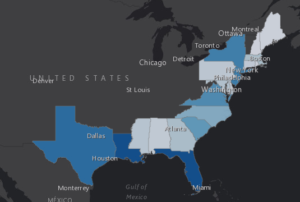 Every state with a coastline that borders the Gulf or the Atlantic has at least one area of extreme storm surge risk.
The 2018 CoreLogic® Storm Surge Report Data Summary provides an annual evaluation of the number and associated reconstruction cost value (RCV) of single-family residential homes in the U.S. that are vulnerable to storm surge from the Gulf of Mexico and Atlantic basins.
This report provides the following data and analysis:
The number of homes at risk of storm surge flooding by state and Core-Based Statistical Area (CBSA)
The reconstruction cost value for at-risk homes
The probabilistic loss analysis of the storm surge from Hurricanes Harvey and Irma
A pre-season forecast for 2018
The weather has a significant effect on both residential and commercial properties as well as how insurance coverage is assessed. This impact is vast and leaves a lasting impression on the insurance industry and the economics of regions affected by severe weather, including the number of homes damaged and the cost to rebuild. For that reason, it is important to analyze meteorological, geographic and oceanic data to understand what areas may be at risk.
Download the data summary now and receive a link to the full report via email.