Insurance is All About the Community
Steven Cote initially entered the insurance business because of a neighbor, and now as president of Chalmers Insurance Group, he aims to ensure the agency always gives back to its neighboring communities.
"Understanding the hard work, collaboration and innovative spirit required to reinforce our value to our clients, carrier partners and communities in which we live and serve," is an ongoing goal for the agency, Cote says.
A 1989 graduate of Bowdoin College, Cote's goal was to teach and coach at the private high school level when a neighbor who owned a local insurance agency offered him his first job. He says finding the insurance industry instead is something he doesn't regret.

"I accepted his offer to jump head-first into the insurance business and have never looked back," he told Insurance Journal.
Cote first joined Chalmers Insurance Group, a fourth-generation, family-owned agency headquartered in western Maine, in 2000 as an account manager. He assumed his current role as president in 2014, finding not only a career at the agency that has spanned nearly 20 years so far, but also a family legacy dating back to 1857.
Indeed, Chalmers has been in business for 160 years. Dottie Chalmers-Cutter, vice president of operations, and James Chalmers, vice president of sales, currently serve on the leadership team alongside Cote. They are both part of the fourth generation of family to own the agency, which was recently nominated by its employees and won Insurance Journal's Best Agency to Work For Bronze award in the East region. Employees nominated the agency by answering questions to an anonymous survey.
"My co-workers and my management team are outstanding partners," one employee wrote.
Cote believes the agency differentiates itself by prioritizing communication and collaboration.
"More than ever before, our co-workers feel prepared, well-rounded and empowered to serve others in impactful ways," he says.
In fact, one employee explained in the survey that a core value of the agency is community involvement, which it demonstrates through volunteering, attending industry association events and participating on boards.
"Our philanthropic committee created a program called Chalmers Cares through which we donate to local non-profits, especially those that deal with children," the employee wrote. "When we receive a referral, we donate as a thank you."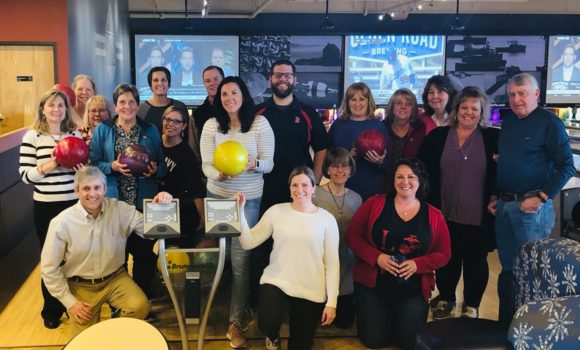 Another employee added that the agency's mission is to insure its neighbors with friendly service, as well as build up the communities it serves.
"We can all get behind that sense of purpose," one employee wrote. "We give back with our knowledge, talent and time to make our community a great place to work and live."
In fact, Cote says one of the best parts of his job is partnering with clients to help them overcome challenges, make informed decisions and achieve important risk management goals.
The agency's commitment to serving its communities also has another benefit: it helped Cote realize his dream of coaching after all.
"Our organization's commitment to serving our communities has afforded me the time and privilege to coach youth basketball for over 28 years!" he says.
Cote says his vision for the agency is to continue actively engaging with its clients and carrier partners to ensure that the Chalmers brand of service maintains relevance and offers distinctive value.
"I believe Chalmers co-workers are proud to be a part of our four-generation, family owned and operated, fiercely independent insurance agency, whose goal is to caringly steward the business to a fifth generation," he says. "We are forever respectful of our rich history, but even more excited for our future."