Valued Employees Dedicated to Putting Clients First
There were many reasons that employees of Florida-based Darr Schackow Insurance nominated their employer as a Best Agency to Work For this year, including its work in the communities it serves and how hard it works for its customers.
But respondents of the annual survey by Insurance Journal said the number one reason they love where they work is because of how much their company cares about them, and that hasn't changed throughout the years as the company has grown.
"This agency treats everyone like family and understands family comes first, all the while providing an amazing place to work, and truly wonderful people to work for and with," said one employee of this year's Southeast region Bronze Winner.
`"The owners truly care about each and every one of us," another employee stated. "They know us personally and treat us like family. They are big supporters of a healthy work/home balance as well as good mental health."
The agency, which has eight offices throughout Florida and is licensed in 32 states, offers personal lines including auto, home and watercraft, as well as business insurance options such as workers' comp and commercial property.
Employees said the agency's growth hasn't been to the detriment of its culture and family-like atmosphere.
"When I started there were about eight employees and one office. We now have over 50 employees and multiple offices throughout the state. I feel fortunate to have found this company at such a young age and to have found a career and work family that strives to help make me more successful every day," a survey respondent said. "They have always provided the opportunity to move up and encouraged growth with every employee."
Another employee said the agency's leadership, headed up by John Darr and Ray Schackow, values each employee and stays involved in making sure they are successful.
"This agency still has that small, family feel while being big enough to have an abundance of resources to help out each client in a personalized way," said one respondent.
"I have over 30 years in the insurance industry and worked in various agencies throughout my career. Darr Schackow is by far the best agency I have worked for. The environment is very professional, and all are treated like family and act accordingly. I'm proud to work for Darr Schackow Insurance and to be part of such an amazing team," another employee said.
John Darr said the management team is honored to be recognized by its team and said its people make the agency different than any other. "They are knowledgeable and care about their work," he said.
The agency strives to put its people first, he added, and advises all agency owners to make decisions based on what is best for their team.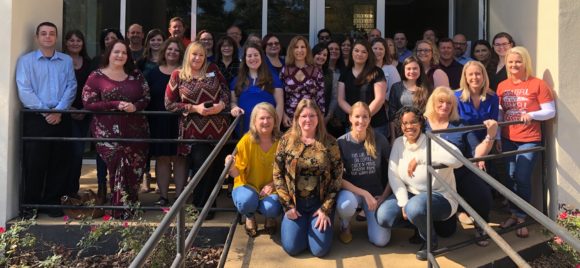 Darr Schackow employees said that attitude – as well as company benefits like vacation time, flex time, and the ability to work from home or the company's in-office safety precautions during the pandemic – is reflective of the agency's culture and how it serves its customers. Employees also praised the company's charity work with the United Way and others.
Employees say the agency is really all about its customers. Company employees said the agency goes the extra mile to make sure its customers have the information they need through educational offerings like videos and webinars, and that helps set it apart from other agencies.
"Taking care of our clients is our number one priority. Educating them on coverage to make sure they understand what they are purchasing and what's available," an employee said.
Said another, "We are committed to helping our clients understand their coverages and risk management profile. At Darr Schackow, we pride ourselves on being trusted insurance advisors and not just sell a cookie cutter policy."