Survey Shows Opportunity for Carriers to Support Agents in Social Media
The majority of agents and brokers say using social media is important for business, yet many report not using social media tools in their business today.
Seven of 10 independent agents and brokers believe it is important that their agencies have an online social media presence, but according to a new survey, half of all agents responding say they did not use social media last year. This is an area where insurers can support and assist agencies, the survey says.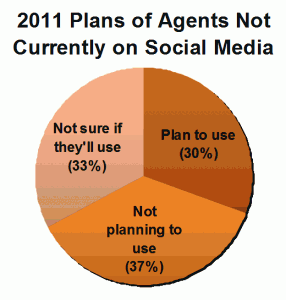 These are some of the emerging findings in the forthcoming survey "2011 Survey of Agent-Carrier Relationships," conducted by Channel Harvest Research and sponsored by Insurance Journal, which surveyed more than 1,500 agents in all 50 states and explored various aspects of their relationships with the carriers they represent.
Beyond the social media opportunity, the Channel Harvest study queried agency principals and producers on a variety of carrier performance factors when choosing which to rely on for most of their business.
Of the 70 percent of agents who believe they need to be leveraging social media, half said it was "critical" or "very important" they have a social media presence, the survey found.
The Channel Harvest survey explored specific strategies that agents use with social media tools to generate leads. Some agents favor Twitter while others favor Facebook; others focus on material for their blogs. The report sheds light on how carriers might best support their agents' efforts to enter and effectively use social media.
Of those respondents who did not use social media in 2010, about one third plan to do so in 2011. Some agents say they'll be broadening usage of social media. One said: "I use Twitter to bring traffic to my blog page and I am now getting about 100 hits per week and some is now leading to business."
The Channel Harvest study examines the specifics of other key issues such as carrier performance drivers, cross selling and remarketing, and agency perpetuation.
The survey instrument covered about 100 separate questions. More than 1,500 agents responded to the survey and passed validation criteria. For most general questions, the number of responses yielded a margin of error of 3 percent at a 95 percent confidence level. Quantitative survey results are presented in various formats, including importance rankings of specific carrier attributes, industry issues, and open-ended agency comments about what breaks superior carriers out from the pack.
The Channel Harvest study "2011 Survey of Agent-Carrier Relationships," is the fourth in a series addressing agents' views on issues in the insurance marketplace. For more information on obtaining the survey report, contact John Campbell at john@channelharvest.com or 202-363-2069.