NAIC Taps Former Pennsylvania Commissioner, Transamerica Exec Consedine as CEO
Ten months after its last chief executive officer departed, the national organization of state insurance regulators has named former Pennsylvania Insurance Commissioner Michael F. Consedine as its new CEO. Consedine will assume the job in early 2017.
As the new CEO of the National Association of Insurance Commissioners (NAIC), Consedine will lead the Washington, D.C. office with primary responsibility over state and federal government affairs and international activities. He will act as an advocate and spokesperson for the association and handle outreach to federal and international policymakers, state government associations, as well as consumer and industry representatives, according to the announcement.
Consedine is currently with the Netherlands-based pensions and life insurance group Aegon that owns Transamerica in the U.S.
Consedine will succeed Andy Beal, current acting CEO, who will return to his roles as chief operating officer and chief legal officer, overseeing the Kansas City and New York offices and managing the day-to-day operations of the organization.
Beal was named acting director after the departure of CEO Ben Nelson in January when Nelson's contract expired.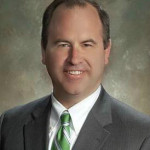 Consedine served as Pennsylvania insurance commissioner from 2011 to 2015. He was appointed insurance commissioner by Republican Gov. Tom Corbett in January 2011 and confirmed by the state Senate in April 2011. He left the post in January 2015, when Democratic Gov.-elect Tom Wolf was sworn into office. In Pennsylvania, the insurance commissioner is appointed by the governor.
Prior to his time as commissioner, Consedine was partner and vice chair of law firm Saul Ewing's Insurance Practice Group. While in private practice Consedine counseled insurance companies, reinsurers, producers, and commercial policyholders in complex insurance regulatory and corporate matters.
From 1995-1999, he was department counsel for the Pennsylvania Insurance Department, representing the department in litigation proceedings and on transactional filings.
He joined Aegon's Transamerica unit in Baltimore in March 2015 as senior vice president, deputy general counsel and executive director of government affairs for its U.S. subsidiary, Transamerica. In August of this year, he added responsibility for Aegon's government policy worldwide and the title of global head of government and policy affairs.
He is familiar with the NAIC organization, having served as president-elect and in other officer positions within the NAIC, during which time he chaired a number of NAIC committees including the International Insurance Relations Committee, the Reinsurance Task Force and the Health Care Reform Alternatives Working Group.
In 2014, he was one of 21 individuals including state regulators, insurance executives, college professors and consumer advocates named to serve as members of the Federal Advisory Committee on Insurance (FACI) of the Treasury Department.
"Mike brings valuable experience and energy to this role during a time of transition with a new administration and Congress," said John M. Huff, NAIC president and Missouri insurance director. "He is highly respected by members of the NAIC and served this body with distinction when he was Pennsylvania's Insurance Commissioner."
Consedine said his experience as an attorney, insurance commissioner and executive "will provide a solid foundation as we advance the work of the NAIC to safeguard insurance regulation and protect consumers."
Leigh Ann Pusey, president and CEO of the American Insurance Association (AIA), praised the selection of Consedine.
"He brings to the position a deep understanding of the state-based insurance regulatory system along with a record of thoughtful leadership on international insurance issues," Pusey said, citing his experience in the private sector as well as in state government.
Former U.S. Senator, Nebraska Governor and Insurance Commissioner Ben Nelson was named CEO in January, 2013 and served until January of this year. The move was a return to the NAIC for Nelson, who had been executive vice president and chief of staff for the NAIC from 1982 to 1985. The Nebraska Democrat retired from the U.S. Senate in 2012 after two terms.
Nelson succeeded Dr. Therese M. Vaughan who left the CEO post in November 2012.