Labor Secretary: Cost Savings in California Workers' Comp $1.3B Annually
Cost savings in the California worker's compensation system from reforms made five years ago are far more massive than projected, according to David Lanier, secretary of the California Labor and Workforce Development Agency.
Lanier on Thursday said that $1.3 billion in annual savings have been realized since sweeping workers' comp reforms went into effect in 2013.
In 2012, when the reforms were being pushed through the state Legislature to the governor's desk, it was estimated annual savings would be roughly $200 million a year.
Lanier was speaking at the annual CWC & Risk Conference in Dana Point, a four-day event that included topics ranging from claims subrogation to workplace violence to cyber to the state's new drug formulary.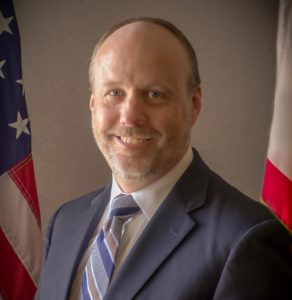 Before the passage of worker's comp reform with Senate Bill 863, wage replacement rates were under 60 percent, costs in the system were out of control and rates employers were paying were continually on the rise.
Now wage replacement rates are around 80 percent, systemic costs are down dramatically and the rates charged to employers have been going down, he said.
"We have the longest stretch of sustainability and stability in our $22.5 billion system since the early 90s," Lanier said.
The state has seen eight consecutive drops in the worker's comp pure premium benchmark. The Workers' Compensation Insurance Rating Bureau of California last month submitted an advisory pure premium rate filing lower than last year's approved rate to the California Insurance Commissioner.
The advisory pure premium rates proposed to be effective Jan. 1, 2019 average $1.70 per $100 of payroll. This indicated average pure premium rate is $0.08, or 4.5 percent, less than the average approved July 1, 2018 advisory pure premium rate of $1.78 and $0.43, or 20 percent, less than the corresponding industry average filed pure premium rate of $2.13 as of July 1, 2018.
SB 863 brought a number of changes to the system, including the establishment of an independent medical review process, a revamping of the lien process and other cost-cutting measures.
The IMR process, which is part of dispute resolution, has helped to dramatically decrease costs and time spent, Lanier said.
A dispute resolution typically took nine to 12 months on average.
"Now we're looking at nine to 12 days," he said.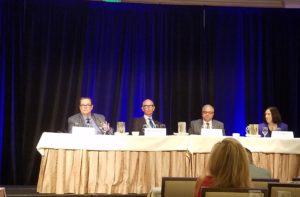 He also lauded subsequent laws that have been passed to address provider fraud and to further curtail liens as having reduced frictional costs in the system.
A large share of those costs come from drugs, and efforts to monitor provider subscribing.
A panel titled, Exploring the Impact of New CA WC Formulary and SB 1160, focused on pharmaceutical costs in workers' comp.
The panelists were Raymond Meister, executive director of the California Department of Workers' Compensation, Dr. Rajiv Das, medical director of risk management for Albertsons, Rena David, senior vice president of research and operations for the California Workers' Compensation Institute, and Dr. Douglas Benner, medical director for Marriott International.
Das talked about a study of data he completed that compared subscribing in the workers' comp system before and after the state initiated the new drug formulary at the beginning of the year when Assembly Bill 1124, which mandated the adoption of an evidence-based formulary for medications prescribed to California injured workers, went into effect.
He looked at opioids, nonsteroidal anti-inflammatory drugs, anti-coagulants and topical NSAIDs.
"You can see that there's a general overall trend downward in opioids," he said.
However, these prescriptions aren't being replaced with other pain-fighting drugs, he noted.
The number of prescriptions for anticonvulsants, such Lyrica and Topamax, actually fell 7 percent over all. The number of prescriptions for NSAIDs, such as Ibuprofen and Naproxen, fell 21 percent. Topical NSAIDs went up only slightly by 4 percent.
"From my perspective, you'd think they'd try other stuff to help with the pain," he said. "I think there's other factors involved in why people take these medications long-term and it's not just for relief of pain.
David gave CWCI figures that also reflect a drop in opioid prescribing in workers' comp.
In 2008, 32 percent of the pharmacy prescriptions were for opioids. In 2017 it was down to 20 percent.
"And I think for 2018 it will be down even further," David said.
She believes public awareness of the opioid crisis is helping, as well as the state's utilization review and IMR process.
Related: