This post is part of a series sponsored by CoreLogic.
Analysis Shows More Than 6.5 Million U.S. Homes Valued at Nearly $1.5 Trillion at Risk of Hurricane Storm Surge Damage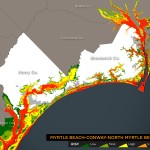 This year, we're ushering in the 2014 hurricane season, which officially began on June 1, in the wake of a fairly inactive past season and amid projections of slightly below-normal activity for the months to come. Though a number of tropical storms and hurricanes formed in the Atlantic in 2013, none made landfall in the U.S. Scientists are predicting more activity than last year in the season ahead, which has already proven true with Hurricane Arthur becoming the first official named storm over July 4th weekend, but still lower than average numbers. The Weather Channel projects 11 storms (at least 39 mph winds), of which five will become hurricanes (with at least 74 mph winds). Only two of those will reach Category 3 or higher (major hurricanes with at least 111 mph winds). The initial Colorado State University forecast was recently revised upward, but is still below the average, indicating 10 storms, four hurricanes and just one major hurricane during 2014. Both of these projections are below the long-term average of 12 storms, six hurricanes and three major hurricanes – but does that mean we can all rest easy?
The honest answer is, no. For those of us who study natural hazard risk exposure to homes across the country, the recent reprieve and below-average projections are potentially worrisome. Homeowners may become complacent in their preparation or underestimate the potential life-threatening conditions hurricanes can create. It is always necessary to take these storms seriously and to have a plan of action for disaster response, as it only takes one moderately strong hurricane to come ashore in a populated area to result in billions of dollars in property damage. History has shown us time and again that even a low-activity year can result in catastrophic hurricane-related damage.
Essential to understanding the true threat hurricanes pose to homes along the U.S. Gulf and Atlantic Coasts is examining the risk associated with hurricane-driven storm surge flooding, which can in many cases extend to homes that don't fall within Federal Emergency Management Agency (FEMA) designated flood zones and therefore aren't required to carry flood insurance. It's for that reason CoreLogic releases a storm surge analysis each year featuring estimations on both the number and value of single-family homes exposed to hurricane-driven storm surge risk within the U.S. Fully comprehending the number of homes and financial impact of sustaining storm surge damage is critically important for insurers, financial institutions, local governments, disaster preparedness teams and especially homeowner to make better informed risk-management decisions.
According to the CoreLogic 2014 storm surge analysis, released today, more than 6.5 million homes along the coastlines of 19 states in the U.S. Atlantic and Gulf Coast regions (plus the District of Columbia) are at risk of storm surge inundation, representing nearly $1.5 trillion in potential reconstruction costs. More than $986 billion of that risk is concentrated within 15 major metro areas. Florida ranks number one for the highest number of homes at risk, at nearly 2.5 million homes and $490 billion in total potential exposure to damage. At the local level, the New York metropolitan area, encompassing northern New Jersey and Long Island, contains not only the highest number of homes at risk (687,412), but also the highest total value of homes exposed, at more than $251 billion. In Miami and Tampa alone, the second- and third-ranked metro areas, there are more than 1 million homes at varying degrees of risk valued at nearly $182 billion. Just along the Atlantic Coast, an estimated 3.8 million homes are located in areas vulnerable to storm surge damage that could cost more than $950 billion to rebuild or replace. The full report with complete regional, state and metro-level data is available here.
The 2014 analysis clearly shows that with nearly $1.5 trillion in residential properties at risk of damage associated with storm surge flooding, hurricanes can and do pose a significant threat to coastal homeowners as far north as Maine and as far west as Texas. Low activity in 2013 and below-normal forecasts for the coming season do not guarantee a quiet 2014. In fact now, when a false sense of security might lead to complacency in mitigation and preparation efforts, is when it's more important than ever to understand the full extent of hurricane risk to reduce the amount of damage and loss, and improve safety and disaster response. New York and New Jersey residents who survived the most recent destruction from Superstorm Sandy should not be the only coastal populations that remember and understand the severity of storm surge risk.
While it may be human nature to joke about the accuracy (or lack thereof) of daily weather forecasts, it would be a good idea to pay attention when a hurricane is projected to move in your direction.
Was this article valuable?
Here are more articles you may enjoy.