This post is part of a series sponsored by CoreLogic.
As of October 29, there were at least 18 fires burning in California, ranging in size from a few acres to more than 74,000 acres as in the case of the Kincade Fire in Sonoma County. This is in addition to hundreds of ignitions that are occurring, with nearly all of them extinguished by quick firefighting response.
Dry fuels, hot temperatures and low humidity are common this time of year in California as are outbreaks of strong wind. The Diablo winds in the north and Santa Ana winds in the south create strong gusts and strong sustained winds that blow offshore this time of year. In an average year, they tend to be inconsistent in strength and although strong, tend to be below the strength of hurricane force winds (74+ mph). However, the reports to date this year indicate that winds in the range of 70, 80 and even 90+ miles per hour have been recorded.
The fires in northern California are seeing strong steady winds and gusts that are not common, even during this time of year, and may be record-setting for duration and maximum gust speed. These winds have the effect of moving the fires very quickly, increasing the intensity of the burn and carrying large embers great distances. Even worse, high winds hinder the firefighter's ability to curtail and contain the burns.
The high-exposure location of several of the fires has resulted in massive evacuation orders affecting several hundred thousand people. Thus far, the situation in California has resulted in a relatively small number of damaged or destroyed structures.
Below is a map of the ongoing fires in California. The zoom-ins of the fires show the risk levels of the properties inside the perimeter of the fire as of Tuesday afternoon (October 29). CoreLogic will regularly provide updates on www.hazardhq.com as fire conditions and perimeters change.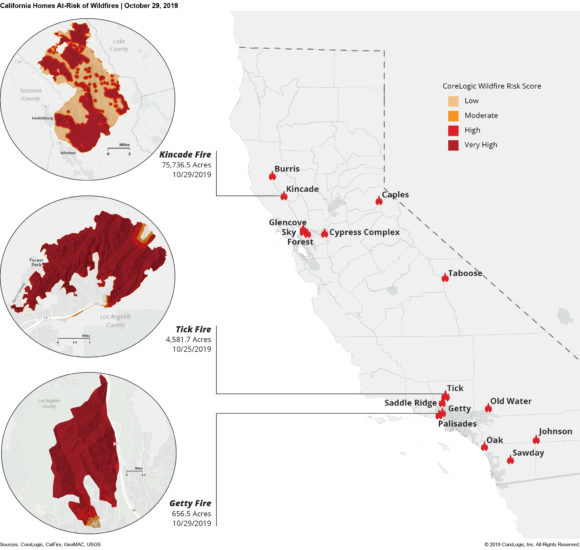 In total, here is the breakdown for number of single family homes in the perimeter of the fires and their associated reconstruction cost value (RCV).
TICK: 601 single family homes | $248M RCV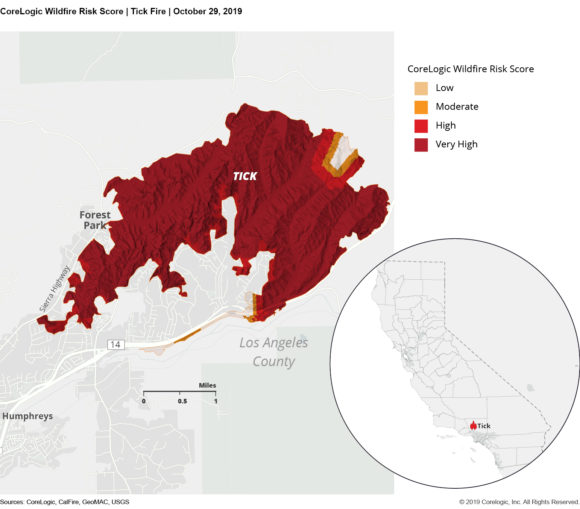 GETTY: 162 single family homes | $137M RCV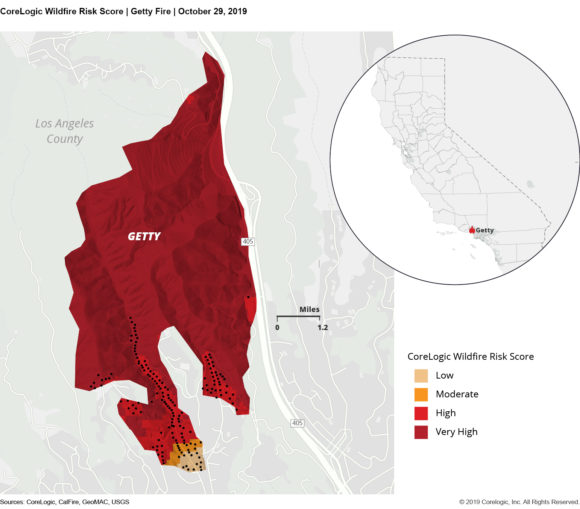 KINCADE: 221 single family homes | $150M RCV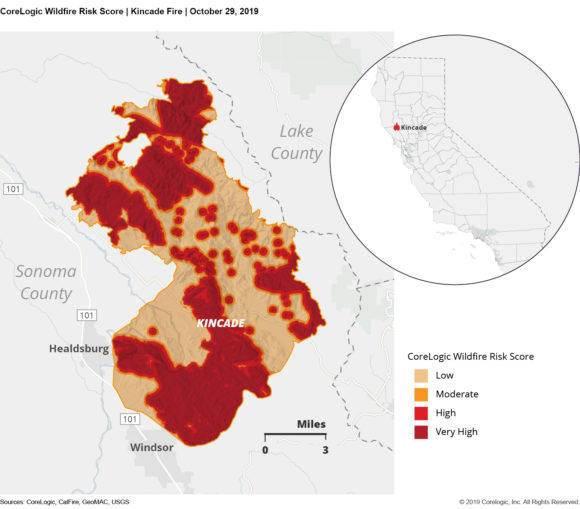 The week ahead is likely to see more strong winds pushing the fires even further. While there has been tremendous containment progress made for some of the fires in the past few days, they continue to rage through northern and southern California. CoreLogic will provide updates as the situation unfolds.
Was this article valuable?
Here are more articles you may enjoy.