Now that it has sold its equity stake in Hispanic-focused auto insurance broker Confie Seguros, Genstar Capital LLC is hunting for another insurance concern.
The San Francisco, Calif.-based private equity firm recently sold off its investment in Confie Seguros to Boston-based private equity firm ABRY Partners. Terms of the deal were not disclosed.
Genstar partnered with insurance executives in 2008 to establish Confie Seguros, and the Buena Park, Calif.-based company has grown to 300 retail locations with annual revenues of more than $200 million. It now has market positions in California, Arizona, Texas, Florida, Washington, Oregon, New York, New Jersey and Nevada.
Genstar's new fund, Genstar 6, has about $75 million to invest – similar to what Genstar put into Confie Seguros nearly five years ago. Genstar's next move, according to Ryan Clark, a managing director at the firm, may be similar to what it did in its Confie Seguros investment with another brokerage, or a managing general agent, yet with a few key differences.
Clark, who said Genstar dumped its stake in Confie Seguros because "it was just the lifecycle of our investment fund, it was the right time for our fund to sell," is bullish on the brokerage business.
"We continue to think that insurance brokerages are good investments," he said. "There are other good platforms out there with good management teams that are looking for capital to help build their platform out."
Buying then building is a formula that Clark, a Harvard MBA graduate, really likes. "I'm really looking at another brokerage consolidation, much like Confie," Clark said.
Genstar won't build out another Hispanic-focused personal lines concern but is likely to take a hard look at commercial lines, Clark said. "We're out looking more at something different than Confie, more commercial lines maybe," he said. "Right now I'm looking for new opportunities that Genstar 6 would invest in."
Clark said the hope is to make a buy in 2013, but said a purchase for what will likely turn out to be a six- to seven-year fund isn't a sure thing. "You have to find the right business, it has to be for sale, you have to come to terms with the sellers," he said.
From This Issue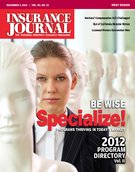 Program Directory Vol. II